GEORGIA RACING HALL OF FAME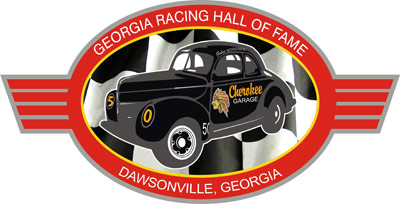 The Georgia Racing Hall of Fame inducted it's first class in 2002, and has worked since then to recognize the pioneer and legendary racers from the state of Georgia that have helped to mold and shape all forms of motorsports. Located in Dawsonville, Georgia, the Hall of Fame works to preserve and highlight the history of racing in the Peach State, including the pioneers from the mountains north of Atlanta that raced and won at Daytona Beach, the drag racers who grabbed victory all over the country, the open wheel and road racers that wrote records each time they race and the motorcycle racers who raced on the edge. The Georgia Racing Hall of Fame honors the racers, mechanics and promoters who worked to make racing what it is today. To date, 69 men and women have been inducted into the Hall of Fame. They include stock car pioneers such as Raymond Parks, Tim Flock, Lloyd Seay, Ed Samples, Gober Sosebee and Sara Christian, open wheel aces such as Jack Etheridge, Jimmy Baker and Speedy Morelock, drag racers Hubert Platt, Hoyt Grimes and Phil Bonner and many, many more.
The Georgia Racing Hall of Fame is owned by Dawsonville History Museum, INC. The museum was recognized in 2002 by the state legislature as the official home of the Georgia Racing Hall of Fame.
The Hall of Fame also plays host to other events saluting the state's racing history, including the annual Lakewood Speedway reunion.
The Hall of Fame also houses a huge collection of vintage race cars, trophies and other one of a kind items that makes it unique in the world of motorsports.
The Hall of Fame and Museum are housed in the Dawsonville City Municipal Complex just outside of downtown Dawsonville, Georgia on Hwy. 53.
Click here to view a slideshow of the Georgia Racing Hall of Fame.

The museum is open:
Monday – Friday from 10 a.m. - 4 p.m.
Saturday 10 a.m. - 2 p.m.
Sunday 12 a.m. - 4 p.m.
Holiday and summer hours vary.
Guests can visit the museum for free — there is no charge for admission. We run on donations.
For more information, call (706) 216-RACE (7223) or go online to www.georgiaracinghof.com.
Race fans can buy a brick by calling 706.216.RACE or by mailing in this form to the
following address.
Georgia Racing Hall of Fame
415 Highway 53 East
Dawsonville, Georgia 30534